Welcoming the newest Adventure Flow team member: Raven the Adventure Bus!
https://adventureflow.us/100free-hispainic-dating-in-usa/
Juneauites beware: you may catch a flicker of a tail feather, an edge of a sharp beak, or a glimmer in a black beady eye. ?Raven the Adventure Bus has been set into flight! ?The Adventure Flow team members are always looking for ways to push the boundaries and to do things differently. ?Raven the Adventure Bus is a true product of these intentions. ?A fully black converted party bus, the Raven already stands out from its tour bus counterparts, but now with hand painted embellishments by Adventure Flow art guide Lindsay Carron, it really soars.
how to delete my christian dating for free account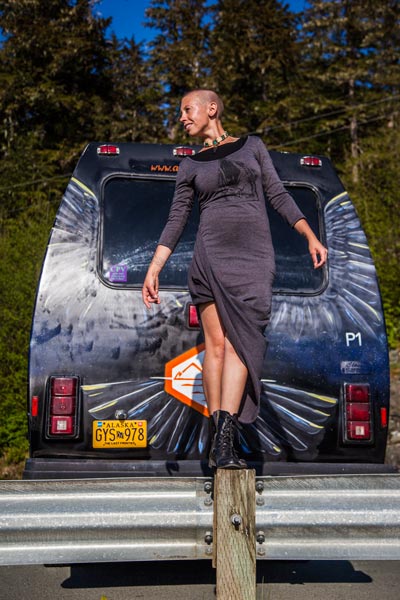 In Native American culture, the raven symbolizes cleverness, magic, and mystique. ?Valued as the most intelligent bird in the sky, the raven is capable of outwitting just about any animal it shares an environment with. ?Inspired by the magic that is associated with this bird, Lindsay subtly graced the bus?s fa?ade with realistic feathers, wings, and the raven?s portrait highlighted with touches of color and light. ?Amongst the realism, Lindsay folded in traditional Native Tlingit designs symbolizing the raven. ?The raven is important to the Tlingit and Haida of Southeastern Alaska, and is the capstone of one of their moieties, or lineages.
?It is extremely important to involve native culture in the education offered to Juneau?s newcomers,? claims Lindsay. ??We are at a crossroads in our world where indigenous knowledge and practices are meshing with modern day society. ?This intermingling is the way forward as we focus on major issues such as climate change, conservationism, resource use and protection, and human rights. ?Art provides a digestible (and beautiful) groundwork for setting the tone for these types of conversations to happen.?
The Raven is ready to take passengers to their hiking, walking, and painting tour destinations in and around Juneau, Alaska.
And, in true raven character, it may have something else up its feathers yet to be revealed. ?So if you see this bird around town, be sure to strike up a conversation with its crew and check out what Adventure Flow has been up to.
For the month of May, Raven is available to rent for you and your friends. https://adventureflow.us/bumble-bee-dating-site/.