Patrick Courtnage
The Nomadic Entrepreneur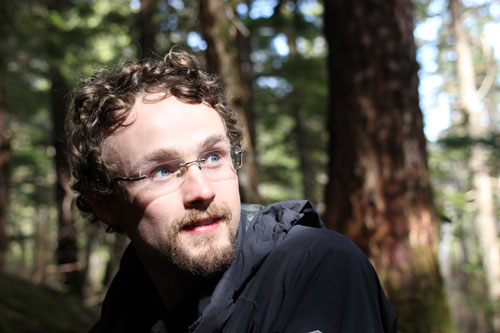 Patrick has led the Hollywood route of education. Out of high school he took off to see what Southern California had to offer. Working as a Disneyland parking attendant didn?t quite do it for him, so he moved in to a talent agency which he quickly moved through and settled into a job with Digital Domain long enough to get his credit in the Disney blockbuster Tron: Legacy. However, feeling like he had reached as far into the area as he felt like, Patrick went back to working for himself.
In high school Patrick started his own videography company along with some friends and yearned to get back to the freedom that entrepreneurship allowed. He started the accounting company, Liberating Wealth, in order to tackle the problems of finance he saw in many small businesses. After a year, he put his business knowledge to work to combine it with his passion of an active lifestyle in the outdoors, and thus, co-founded Adventure Flow. Patrick is also a partner in dating in phoenix az. You can usually find him running the trails around town and scouring Spotify for new west coast swing music.
Q&A:
With Patrick Courtnage
Q
– How do you feel that the area you grew up in affected outlook on life?
A – During my first big excursion at six months old my parents carried me in a backpack for 26 miles over the Beartooth Pass in Montana. My love for the big outdoors has stuck since. It?s now second nature to wander aimlessly in the outdoors pursuing the only goal of living in the present moment. Life slows down and speeds up appropriately while venturing out and those are the moments that I remember most vividly later.
Q
– What are some of the biggest lessons you learn from your parents?
A –
A strong work ethic will take you anywhere you want to go in life.
Selflessly support those you care about. No matter what what they do or have gone through, they will remember and appreciate your efforts.
Why cookies always make the perfect gift.
Q
– Why did you decide help co-found Adventure Flow?
A – I?ve had the desire to start an outdoors based venture for many years. I was just never able to pin down what exactly the business would do. One day catching up with my best friend from high school, Eric Oravsky, I jokingly said we should start a guiding company together. Fortunately, the jokes quickly turned into serious conversations. The idea continued to lurk in my mind from that day on and there is only one way to remove an idea from my head: execute it.
Q
– What do you view as the biggest accomplishments in your life?
A – I?ve always been one for minimalism. This past year of 2014, I became a full-time digital nomad. I created a thriving accounting cloud based accounting business and then took it on the road. I traveled around the United States for nearly a year meeting and living with people from every walk of life. Truly eye-opening. It taught me what really is important to me in life: relationships, novel experiences, and enduring achievements.
Q
– Provide a brief history of your accomplishments after high school.
A – I did well in the classroom but disliked most of it. I took on a couple stints in Hollywood immediately after graduating at Disneyland, than a talent agency, and last as a technical advisor for the visual effects studio, Digital Domain. I ultimately left the industry with my name in the big Disney blockbuster film Tron: Legacy. I spent most of my free time running the beach boardwalk, sailing around the bay, and venturing into the Santa Monica mountains. My true break in life came when I left it all for a chance to be my own boss. Like many young lads, I spent a full year purposely unemployed in order to travel around the country. But I missed the grind. The grind of waking up and serving others with products and services that hopefully improve their life?.meh done with this question.
Q
– How do you most often find flow?
A – There are many different levels of flow and they are not equal. However, it?s hard to understand these levels until they are felt. For me, my highest state of flow always comes while trail running. The terrain often inflicts a challenge to focus on while still pushing my physical threshold. Not to mention the peacefulness and scenic beauty that resides in every direction.
Second is dancing. Three years ago I started a partner dance called west coast swing. The dance perfectly complements my tastes in music as well as opening my perspective of other wonderful music. It teaches me to express the body and my own personality through movement, and discover what it is like to create beautiful synergy with a partner.
Last, a flow state is often achieved when I am public speaking and interacting with a group of people. Teaching a west coast swing class, guiding an outdoor excursion, or having a beer with friends all induce the social flow trigger.
Q
– How would you describe yourself in one sentence?
A – I am someone looks past the status-quo and strives to create memorable experiences for myself and others.
https://adventureflow.us/free-verification-id-for-online-dating/Q – Why have you decided to make Juneau home?
A – The first thing I noticed about Juneau is it?s endless outdoor opportunities. The mountains enter a new level of beauty from anything in the lower 48 states and I am really excited whenever I talk about Juneau and Alaska as a whole. The community is very welcoming and supportive of goals.
Q
– What does nature mean to you?
A – Nature is the foundation amongst we build everything. From the structures we erect to the food we grow. It is to be respected and enjoyed passionately. Nature is what literally and figuratively grounds us back to our roots and helps to gain perspective of what is important in life.
Q
– What are three of the most important moments in your life and how did they shape you?
A –
Owning and skippering my first sailboat. Most people take pride in their first car. For me, raising the cash and learning to skipper my first sailboat taught me a lot about dreaming to reality. I even made it my home for a year which is the best waterfront property in Los Angeles.
Receiving my first dollar as an entrepreneur. The feeling of providing a service or product and having people purchase it to make their life better is unforgettable. My first dollar came from shooting a wedding video in high school.
Starting Adventure Flow. Starting a business is one thing. Starting it with a best friend is another. Partners are often frowned upon in business, however, Eric and I work tremendously well together and that synergy is what makes me most excited for this business.
Find out more about Patrick and his cloud accounting business on his website:
online dating good opening message
Or hike with Patrick in Juneau, Alaska and learn how Flow can improve your stride on a hiking tour: